Skinboard packaging is a carded packaging that uses a clear polyethylene plastic film to hold the product tightly against a paper card. The custom-fit film allows the product to be easily inspected, provides protection from the environment, and reduces product tampering. The decorative backer card is printed with eye-catching graphics and any information the consumer may need pertaining to the product.
Skinboard is a specialty paperboard manufactured with microscopic pores that permit air to pass through the board during the packaging process. After printing, the surface of one side of the paperboard is coated with a heat-activated adhesive, which will bond the plastic to the skinboard in the skin packaging machine.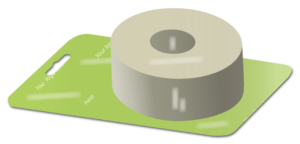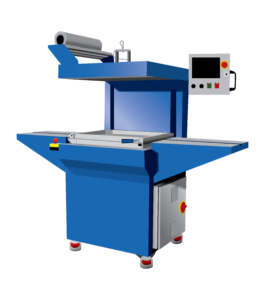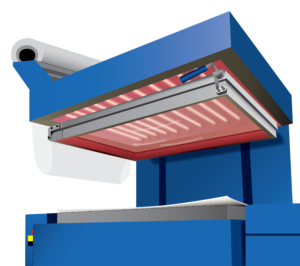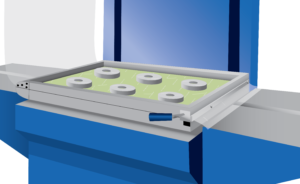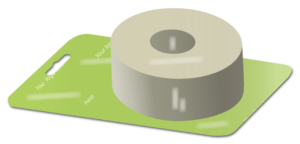 Automated skin packaging machines simplify the packaging process, by pulling the product-filled skinboards into position, applying the plastic film, cutting the film to free the board, and loading the completed skinboards into a waiting bin at the end of the production line. Semi-automatic machines require an operator to position the skinboard sheets, load the product onto the skinboard, engage the controls for the application of the plastic film, and cut the film so the sealed skinboard may be removed. An operator is needed for every step of the packaging process when using a manual skin packaging machine, which is best suited for smaller production runs.
The product-loaded skinboard is placed into position on the vacuum platen. The clamp frame supporting the plastic film above the skinboard is raised toward the heating elements so that the film can be softened and stretched.
When the plastic film is heated enough to be formable, the clamp frame is lowered to the vacuum platen, so that the film covers the product and paperboard. The vacuum system below the board helps pull the film firmly against the board and product, and the warmth of the plastic film activates the adhesive to create a lasting bond with the skinboard.
The clamp frame is opened and the board is pulled to the side and away from the frame, at the same time advancing a new section of the plastic film into the clamp frame. The film is cut along the edge of the clamp frame and the board is released.
When the packaging process is completed, the boards move to a diecutter, where a custom tooling die, fitted with sharp steel cutting rules, is used to cut the skinboard down to the finished card size.